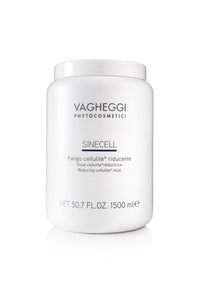 Vagheggi Sinecell Reducing Cellulite Mud 1500ml
Tax included.
Mud made from red Jania rubens algae and Polysiphonia brodiei, enriched with caffeine, organic iodine and pineapple stem for a slimming action that combats unsightly, advanced cellulite.
WARNING: this product stimulates the circulation and may therefore cause a slight tingling, a subjective sensation that is no indication of efficacy.
Ingredients: regenerating Shea butter, anti-oxidant vitamin E, smoothing allantoin, lipolytic draining caffeine, hydrating panthenol, softening starch, reactivating pineapple stem, rebalancing probiotics, slimming Polysiphonia brodiei, anti-cellulite Jania rubens, metabolism-activating patented organic iodine molecule, circulation-activating tocopherol nicotinate.
Use: apply to affected zone, leave on for 20 minutes, then remove with water or in the shower.
THERMO SLIMMING WRAPS
Disposable stretch cotton body wraps for focussed treatment of fat deposits and unsightly advanced cellulite. Their thick, heat-effect texture is suitable for slimming treatments thanks to the red Polysiphonia brodiei alga and caffeine in the formula.
Ingredients: smoothing allantoin, lipolytic draining caffeine, slimming Polysiphonia brodiei, circulation-activating methyl nicotinate.
Use: wrap both legs from knee to abdomen, taking care to slightly overlap the edges and wind fairly tightly. Leave for 15-20 minutes.
Adding product to your cart