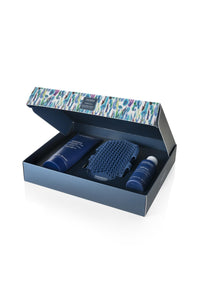 Vagheggi Sinecell Cellulite System 2 Prod
Tax included.
The kit contains:
GLOVE- Specific for massage and to stimulate circulation in the problem areas.
SMOOTHING CELLULITE* CONCENTRATE
Concentrated gel with complete slimming and smoothing action.
One evening a week, apply a thin layer of the Concentrate with your hands and use the glove and circular movements to gently massage upwards, promoting drainage. Follow with a refreshing shower. Choose the side of the glove that feels best on your skin.
Remember. You can use the glove with all the body products from the Vagheggi line.
Ingedients: humectant urea, smoothing allantoin, lipolytic draining caffeine, AHAs alph-hydroxy acids, probiotics, Jania rubens
SLEEPING BODY MASK CELLULITE*
Cream mask to apply every evening, either massaged until completely absorbed or used as a mask for an intensive anti-cellulite* and slimming action.
Every evening, apply Sleeping body mask cellulite* until absorbed, an innovative no-rinse mask, as practical as it is effective. In the morning your skin will immediately look smooth and compact.
If you like and have time, boost results by wrapping with film for at least 20 minutes.
Ingredients: coconut oil, anti-oxidant vitamin E, lipolytic draining caffeine, pink clay, softening starch, rebalancing probiotics, slimming Polysiphonia brodiei, anti-cellulite Jania rubens
Adding product to your cart