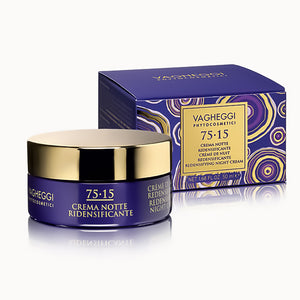 Vagheggi 75.15 Redensifying Night Cream
Tax included.
Embrace the transformative power of Vagheggi 75.15 Redensifying Night Cream, a luxurious skincare solution designed to rejuvenate your skin as you sleep. This innovative night cream is formulated to reactivate, redefine and reidentify the youthful essence of your skin, making it an essential part of your nightly skincare routine.
Key Features:
Enhanced Skin Density: The cream works overnight to increase the density of your skin, resulting in a visibly younger and more vibrant appearance.
Improved Skin Evenness: Regular use leads to more even skin texture, diminishing the appearance of fine lines and wrinkles for a smoother, plumper look.
Maximum Nutrition: It provides your skin with the utmost nutrition and hydration, essential for maintaining skin health and elasticity.

Nightly Skin Restructuring: Specifically designed for night time use, this cream supports the skin's natural regenerative processes, leading to restructured and rejuvenated skin by morning.
Redensifying Night Cream
Anti-Aging Night Cream
Skin Plumping Cream
Vagheggi 75.15 Cream

Youthful Skin Cream
Nighttime Skincare
Skin Nutrition Cream
Luxury Beauty Cream
Skin Rejuvenation
Ideal for:
Those seeking a high-performance night cream to address signs of aging and improve skin density and evenness. Vagheggi 75.15 Redensifying Night Cream is perfect for anyone wanting to wake up to restructured, plumper, and more youthful-looking skin.
Adding product to your cart