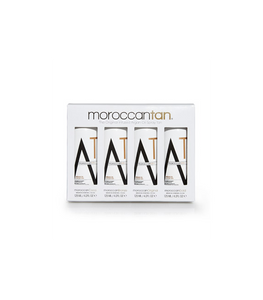 Moroccan Tan Original Collection Sample Pack 4 x 125ml
Tax included.
Experience the colours of the Moroccan Tan Original Collection with our sample pack of Professional Tanning Solutions.

The original solutions are a green-based formulation that are enhanced with cosmetic bronzers to create a warm, bronzed hue. Our signature collection is particularly complementary to those with normal to oily skin that are looking to achieve a natural to dark colour. All solutions encompass a premium blend of natural and organic ingredients that work effortlessly to enhance and improve complexion accomplishing the perfect finish.
Pack Includes:
x 1 – Moroccan Gold 8%| 125ML
x 1 – Moroccan Original 10% | 125ML
x 1 – Moroccan Bronze 12% | 125ml
x 1 – Moroccan Coco 14% | 125ml
Key Ingredients
+ Organic Argan Oil works to Nourish + Invigorate
+ Organic Aloe Vera works to Calm + Balance
+ Natural Vitamin E works to Nourish + Repair
+ Pro-Vitamin B5 works to Regenerate + Stabilise
+ Vitamin C works to Build + Protect



Fragrance: Sweet Honey 
Size: 125 ml x 4
Adding product to your cart