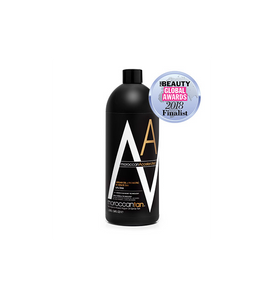 Moroccan Accelerated 30 minute 16% DHA 1 Litre
Tax included.
Moroccan Accelerated is a blended-base formulation that contains exclusive ultra-bronzers and boosted melanin tanning technology to create a deep, bronzed hue.  
This unique solution is suitable for all skin types and particularly complementary to those with dry, mature, or sensitive skin. Accelerated is a 16% DHA solution that contains a 48-hour hydration complex that provides a continuous surge of hydration and a powerful probiotic blend to enhance the radiance of the complexion by stimulating the skin's natural defences.
Solutions develop darker over time and can be customised and tailored to suit each client. For a natural finish leave on the skin for 30 minutes – 1-hour. For dark 2-3-hours and for a dark-intense result, leave on for 6+ hours.
Key Ingredients
+ Organic Rose Absolute works to Rejuvenate + Repair 
+ Organic Argan Oil works to Condition + Restore
+ Probiotic Defence works to Protect + Enhance
+ Organic Rosehip Oil works to Hydrate + Soothe
+ Organic Raspberry Seed Oil works to Nourish + Protect.
Fragrance: Fragrance-Free

Size: 1 Litre
Adding product to your cart