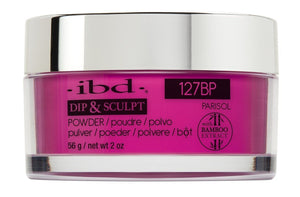 IBD DUAL DIP PARISOL 56g
Tax included.
Introducing Dip & Sculpt, the innovative two-in-one product that lets you create dip and acrylic nail enhancements with the use of a single powder. Simply use it with a traditional dip manicure system to create natural-looking nails or pair it with monomer to sculpt acrylic nails. Best of all, we've fortified this game changing powder with nail-strengthening bamboo extract to promote strong and healthy nails.
Dip & Sculpt is available in many versatile shades that flawlessly match clients favorite ibd gel and lacquer colors. Get excited to tap the power of possibilities with Dip & Sculpt powder!
FEATURES & BENEFITS:
2-in-2 Powder formula can create a dip manicure or sculpt an acrylic enhancement with monomer
Bamboo Extract enhanced powder strengthens nail enhancements
Calcium and Vitamin E enriched Base promotes durability
Activator improves nail strength and exibility
Light weight, odor-free, high shine formula
Available in many matching gel and lacquer shades for all your mani/pedi needs
Adding product to your cart