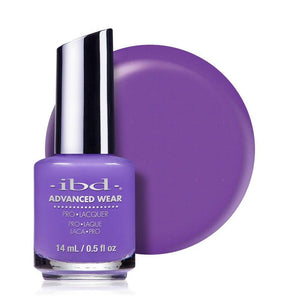 ibd Advanced Wear Lacquer 14ml - Heedless to Say
Tax included.
Dolce Vita Collection - Heedless to Say (Advanced Wear Lacquer)
Dolce Vita Collection
ibd Just Gel Polish and Nail Lacquer offers a new collection inspired by warm summers on the Italian Amalfi Coast wandering the southern shore of the Sorrentine Peninsula. The Dolce Vita Collection embodies the vivacious ambiance of lively people soaking up the vast waterfront, adorning haute fashions and indulging themselves with the splendid cuisine that coastal Italy has to offer. It's an oversized pair of sunglasses and a single scoop of Gelato combined with a care-free outlook. Dolce Vita exemplifies the good life, Italian style.
ibd Just Gel Polish and Nail Lacquer Dolce Vita Collection consists of 6 summer inspired colors: Head-to-toe Gelato – bright orange, Rome Around – opaque pink, Vespas & Siestas – flashy fuchsia, Heedless to Say – punchy purple, Riviera Rendezvous – bold blue, Just Me n' Capri – aquatic green.
To add gleaming accents to the six shades, ibd offers 2 unique deco glitters: Célfie in Amalfi – gold flake glitter and Bellinis & Bikinis – orange, pink and gold glitter.
ibd Dolce Vita Collection offers NEW Just A Match Duo Packs with matching 14 mL/ 0.5 fl oz ibd Nail Lacquer and Just Gel Polish shades conveniently packaged together!
ibd Advanced Wear Lacquer
The ibd Advanced Wear Pro Lacquer is a 3 step professional system that does not require an LED light. It has the durability of a gel and stays chip-free for 2-3 times longer than an average nail polish. These highly pigmented polishes match perfectly with ibd Just Gel Polish shades and provide superior coverage and adhesion to the nail. They are also 5 free meaning they're free from Formaldehyde, Toluene, DBP, Resin and Camphor.
Adding product to your cart