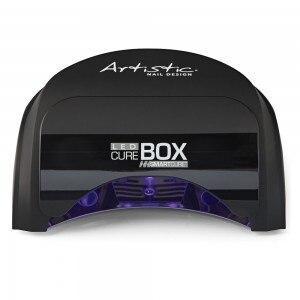 Artistic LED Cure Box
Tax included.
Eyeguard? Shield

Soft Touch

5 Finger Cure

Smart Cure

?

On/Off Button

36 Watts

50,000 Hours

Diamond Reflectors

Motion Sensors

Removable Sanitizable Magnet Tray

Acetone Resistant

1 Year Warranty

Complies With World Wide Safety Standards

LED Cure Box Gel Cure Times

Bonding Gel - 5 Seconds

Colour Gloss & Glossing Gel - 30 Seconds

Putty Polygel Enhancement - 60 Seconds
Artistic Nail Design LED Cure Box
Innovative Design from the bottom up! The new LED Cure Box from Artistic Nail Design is powerful, sleek and designed to unleash 36 watts of power. With precision diamond curing, perfect 360-degree five finger?cure and class leading comfort (gradual) cure technology this amazing piece of technology will change your nail services from the ground up.
Artistic Nail Design Cure Box from switchfunky on Vimeo.
switchfunky and it's official sub distributors (call for a list if unsure) are the?only authorised distributors of the Australian and New Zealand Version (240volt) of Artistic Nail Design LED Cure Box and can offer you a comprehensive 12 month warranty . Don't be fooled by grey imports and imitations. We will not be beaten on any confirmed price on a genuine Artistic product. ?Call us today on 1800 700 510 in Australia or 0800 578 908 in New Zealand to discuss.
Adding product to your cart