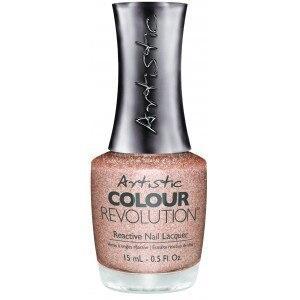 Artistic Lacquer Swanky 016
Tax included.
Artistic Colour Revolution is reactive to natural light. When used together, Reactive Bonder & Reactive Gloss?interlink with?Colour Revolution to dry to a more durable high shine with its longer chain molecular?structure.?
5 FREE Formulation:
No DBP, Toluene, Formaldehyde, Formaldehyde Resin, Camphor?
Crystal Shine you have to see to believe?
Wears up to 10 days
Adhesion promoting monomer technology?
100+ Matching shades:
Colour Gloss Soak-Off Gel Nail Colour and names?
100% Professional:
Custom packaging designed to withstand the salon environment
CUSTOM DESIGNED - BOTTLE
Engineered for fit like no other and weighted for a more comfortable, balanced feel GUNMETAL ACETONE RESISTANT CAP
Designed for the Professional to withstand the harshest salon conditions. PROFESSIONAL ULTRA WIDE BRUSH. The ultra-fine bristle brush smoothly covers the entire nail bed with fewer and more precise strokes.
Artistic Colour Revolution Reactive Nail Lacquer
Colour:?Swanky - Pink Shimmer
Size : 15ml
Number : 16
Artistic Colour Revolution Intense Mirror Shine all?week long Wears up to 10 days, with adhesion promoting?technology No LED Light, Reactive formulas fuze together catalyzed by natural light 100+ Luxe shades with matching Colour Gloss Soak Off Gel Nail Colour.
Adding product to your cart