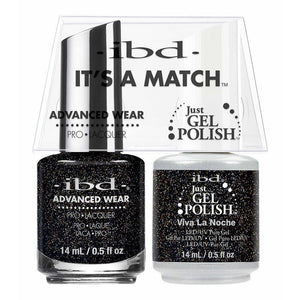 ibd Just Gel Polish & Advanced Wear Duo - Viva La Noche
Tax included.
Love, Lola Collection - Viva La Noche (It's A Match! Just Gel Polish and Advanced Wear Pro Lacquer Duo)
Spicy, seductive shades that unleash your inner siren.
ibd introduces LOVE, LOLA: a fiery, flirty, fiercely feminine color collection inspired by a modern Spanish siren named Lola. Spicy, seductive shades and sparks of gold create a blaze of brilliance against smoldering Spanish skies to capture her exotic allure and colorful life.
Powerful and passionate, what Lola wants, Lola gets. 8 gorgeous new shades in crème, glitter and shimmer finishes of Just Gel Polish, Advanced Wear and It's a Match Duo Packs. Hot-blooded hues to unleash the Spanish siren in you. Prepare to be seduced.
ibd Just Gel Polish
The ibd Just Gel Polish is a 100% pure gel formula that lasts chip-free for weeks. It cures quickly under LED or UV light with a rich, high gloss and superb finish that has made it a real favourite with nail technicians.
ibd Advanced Wear Lacquer
ibd Advanced Wear Pro Lacquer is a 3 step professional system that does not require an LED light. It has the durability of a gel and stays chip-free for 2-3 times longer than an average nail polish. These highly pigmented polishes match perfectly with ibd Just Gel Polish shades and provide superior coverage and adhesion to the nail. They are also 5 free meaning they're free from Formaldehyde, Toluene, DBP, Resin and Camphor.
Adding product to your cart