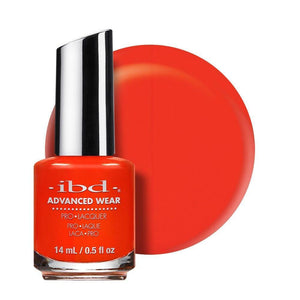 ibd Advanced Wear Lacquer 14ml - Berlin & Out
Tax included.
Destination Colour Collection - Berlin & Out (Advanced Wear Lacquer)
Destination Colour
ibd introduces Destination Colour, a bright, whimsical collection of free-spirited shades meant to ignite your wanderlust. Playful hues in vibrant tones send you off on adventures of the heart and mind. It's about stamps on your passport, fascinatin strangers in foreign cafés, jets and gondolas, trains and zip lines.
Destination Colour features eight inspiring new shades in our Just Gel Polish, Advanced Wear and It's A Match Duo Packs. It's not just about the destination, it's about what happens along the way.
ibd Advanced Wear Lacquer
ibd Advanced Wear Pro Lacquer is a 3 step professional system that does not require an LED light. It has the durability of a gel and stays chip-free for 2-3 times longer than an average nail polish. These highly pigmented polishes match perfectly with ibd Just Gel Polish shades and provide superior coverage and adhesion to the nail. They are also 5 free meaning they're free from Formaldehyde, Toluene, DBP, Resin and Camphor.
Adding product to your cart